Site Administrator's Guide: Creating Pages
When creating or editing pages, you will see a form that looks something like this: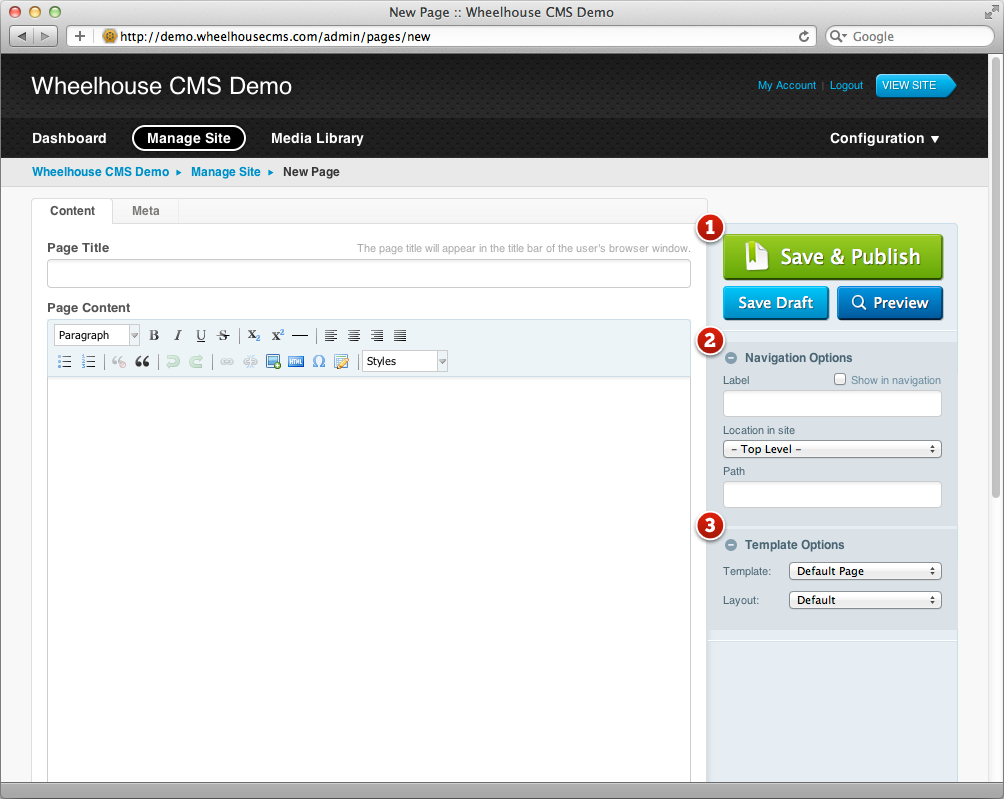 This screen as well as others like it are the heart of Wheelhouse CMS, allowing you to create the content that will become a part of your web site.
Publishing Controls
As a user with administrator privileges you will see the full publishing controls, allowing you to Save & Publish, Save as Draft or Preview the current page.
Users with editor privileges are able to save drafts, but may not publish pages and hence won't see the Save & Publish button.
Navigation Options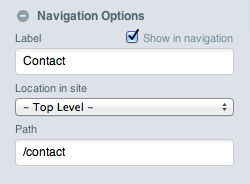 The Navigation Options panel controls how the page appears in your site navigation, and what URL is used to access your page.
The page's Label, Location, Path, and whether or not to show the page in the navigation are all editable within this panel. The label field will be automatically filled out based on the page title. However if your page title is long, you may want to shorten the label for the navigation.
Wheelhouse will also do its best to pick a SEO-friendly path for your page, taking into account the page's label and its location within the site hierarchy. However you may want to confirm that it has chosen correctly, and make any tweaks as necessary. Whilst the path (and other page options) can be changed at any time, any links you create to this page will need to be updated manually.
Template Options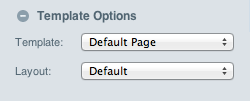 The Template Options panel allows you to change the template or layout used by the page. Wheelhouse will prepopulate these lists based on the templates and layouts defined in the current theme.
Changing the template may alter the form fields available for editing. See Editing Content for information on the different types of form fields you might see.