Site Administrator's Guide: Introduction
Welcome to the Wheelhouse Site Administrator's Guide. This section will guide you through the heart of Wheelhouse CMS - the admin interface - and is a good starting point for anyone wanting to build and/or manage a web site using Wheelhouse CMS.
This guide will cover all of the core features of the Wheelhouse CMS admin interface, including:
Logging in and the exploring the Dashboard
Viewing and managing your site in the Site Overview
Creating pages and editing content
Managing your images, videos, and files in the Media Library
Configuring your site options, and editing snippets & redirects
Adding and removing users
For instructions on installing and setting up Wheelhouse CMS, please refer to the Installation & Setup Guide (coming soon). This guide assumes you already have Wheelhouse CMS up and running.
Logging in to Wheelhouse
To manage and edit your site's content, you'll first need to log in to the Wheelhouse admin.
The admin will usually be accessible by adding /admin to your web site's address. For example if your web site is running at http://www.example.com then you will access the Wheelhouse admin at http://www.example.com/admin.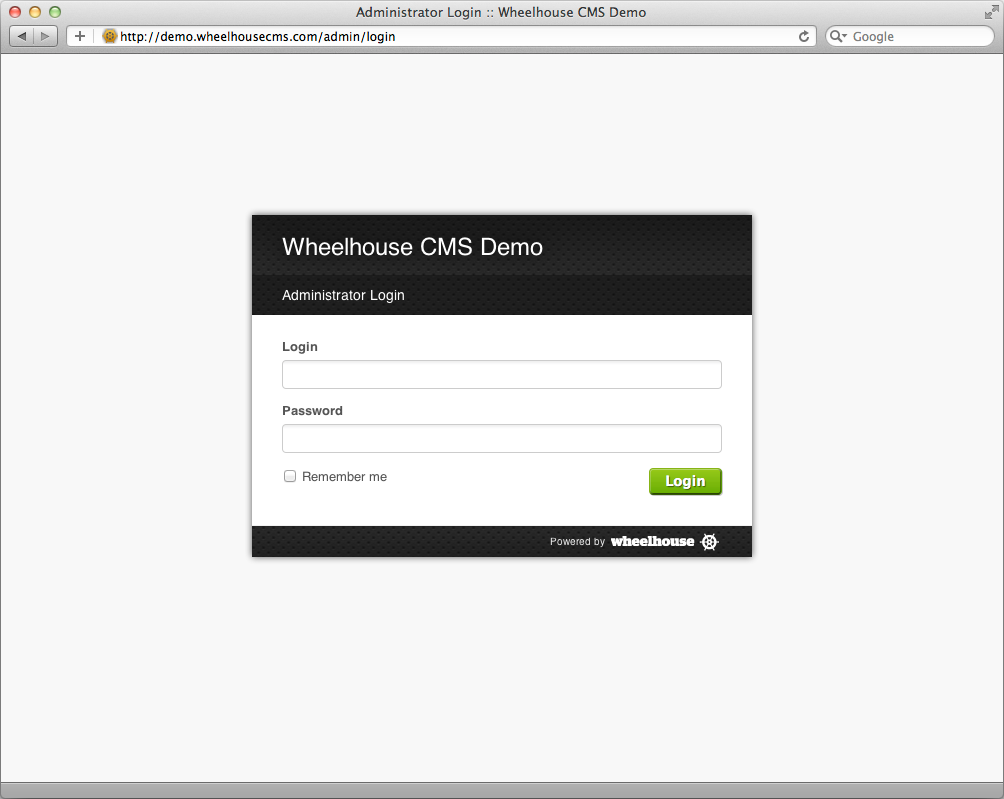 On the login page, enter your login and password (check with your primary site administrator or developer) and click Login to be taken to the Dashboard.